Book Sales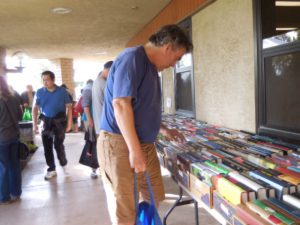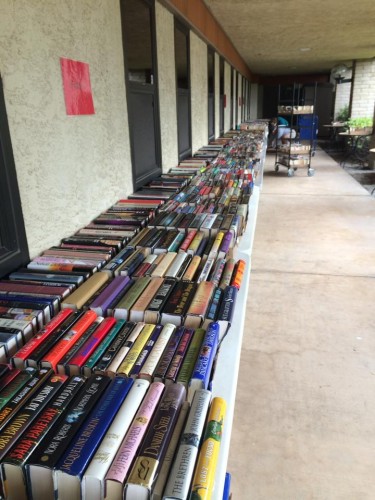 Library Book Sales:
FOTAGL supports the Library with bi-monthly book sales, held the 2nd Saturday of every other month, from 10:00-3:00, at the Library. Friends Members enjoy early admission and shopping at 9:30 a.m. The $2.00 a Bag Sale begins at 1:00 p.m. (As many books as you can fit into a grocery bag!).  Remember we are now able to process credit card and debit card purchases (with a minimum $10 cash-out).
Donations are NOT being accepted at this time due to COVID-19 precautions.  Please do NOT leave any donations at the doors as they will be discarded in the recycle bine.  In addition, library staff has removed all free bins until further notice.
Upcoming Book Sales:
Our December book sale was a great success, earning a little over $2600.  We had some wonderful books to choose from.  Thanks so much for your support!
The sale scheduled for Saturday, June 13th is cancelled due to COVID 19 precautions.  
Internet Book Sales:
Since FOTAGL's mission is to provide monetary support for the Arroyo Grande Library, our volunteers are always looking for creative opportunities to raise money. Our newest venture is selling used books on Amazon. A small, but mighty and dedicated team culls through donations, scans books to determine salability, prices and lists the books on Amazon, monitors the website for price changes, and then ships the books to the customers who have purchased them. We are still selling (& shipping) books so please visit us on Amazon for some very unusual books.
Friends' member Lorraine Brewster started and ran the program single-handedly for almost two-years, achieving amazing success; however, it became obvious that if our sales were to continue to grow, it would require the effort of a team of people. In March 2016, we officially launched the FOTAGL site on Amazon with a five person team. As our sales have now grown from a few hundred dollars a month to the $1901 profit we netted in October 2019 (on sales of 59 books) so has our team. Year to date, internet sales have earned almost $8900–all proceeds going to the AG Library.  In August we sold a record 70 books! Today, it includes ten members: Sue Barton, Janet Baxter, Lorraine Brewster, Roger Connolly, Peggy Heinrichs (chair), Barbara Levenson, Ellen Polinsky, Juliana Sessions, Donna MacKinder, Danna Weidner and Marge Seid.  Sadly Ellen Polinsky has resigned from the team.  We will miss her so much and are so appreciative of all of her contributions!
The bulk of the books we sell range from $12.00 to $30.00, but we have had some that sell for considerably more. A few examples are:
$449.00          Henriette Stone..art plates
$399.00          Tihuanacu:  The Cradle of American Man Vol I & II
$64.88            Software Engineering:  Theory & Practice
$25.41             Neurological Foundations for EMDR Practice
Currently we have @ 800+ books listed for sale & have just expanded our capacity to 1000 books. To see what they are, and perhaps find something special to buy, visit our 'storefront' at Friends of the Arroyo Grande Library @Amazon.com. If you'd like to learn more about this project and/or are interested in joining the Internet Sales Team, send us an email at fotaglinternetbooksales@gmail.com.
As a final note, this project has in no way diminished the quality or quantity of books that are available at our bi-monthly book sales.
Total Fundraising:
FOTAGL uses all its funds to support the AG Library.  In 2019 (from 1/1/19 thru 12/31/19), we raised $7,945 in our Book Nook,  $17, 174 from internet book sales and $16, 045 from our bi-monthly book sales.  We covered $30,928 in library expenses with those funds.