About Us
ABOUT THE FRIENDS
Our mission:  To preserve and enhance the library's place as a source of information by enriching its resources and making its services better known to the community.
FOTAGL is a 501(c)(3) non profit organization registered with the California Secretary of State.  Our Tax ID is 77-0324053.  We are an all-volunteer organization with many opportunities to lend a hand, from the once every other month Book Sales, to the person with a unique skill set to offer (graphic design, merchandising, fund raising), we can use your help!
Our By-laws, click here
What do the Friends of the Library Do?
We shelve books
We mend books
We purchase books, DVD's and supplies
We provide computers and printers for public use
We fund adult and children's programs
We purchase furniture and fixtures
We process donated materials for sale and use the proceeds for the library
We sell appropriate books on the internet and use proceeds for the library
Notable contributions:
Teen Lounge
Leather furniture in lounge
Patron computers
Kids computers
Adult lounge furniture
During 2019, the Book Nook earned a total of $7,945!!    That was a $200 increase over 2018.   Internet Sales in 2019 also outdid 2018 by over $1500,  totaling an amazing $17,174!!   And our bi-monthly book sales earned slightly over $16,000, also outdoing our 2018 earnings.  
Membership
We are thrilled that so many of you in the community show your support of the Library by becoming a member of the Friends.  We currently have 367 adult members including 120 life members.  We have an additional 78 teens.
If your membership has lapsed or you wish to join, it is not too late!  You may print and fill out the membership application found here membership.   Include a check made out to Friends of the Arroyo Grande Library and:
Bring in to the Arroyo Grande library help desk
Or
Mail your application and check together to:
Friends of the Arroyo Grande Library
800 West Branch Street
Arroyo Grande, CA 93420
You can also cut the membership form out of the bi-monthly newsletter or pick up a membership form the next time you visit the Library.  Leave the completed form and your payment with staff at the HELP desk.  We would love to have you as a member!
VOLUNTEER
The Friends of the AG Library is an all-volunteer organization with many opportunities to lend a hand, from the Book Sale Team, to persons with unique skills to offer (such as graphic design, merchandising, fund raising, internet book sales), we can use your help! Use the Contact link to let us know you are interested.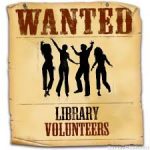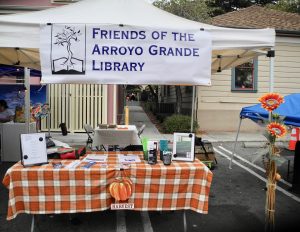 ANOTHER SUCCESSFUL HARVEST FESTIVAL!
Once again FOTAGL sponsored a booth at the 2019 AG Harvest Festival.  We offered young supporters a chance to balance a book on their heads and navigate through a short obstacle course.  All winners received a coupon for a free book at our upcoming book sale (90 were given out), book marks and a snack.  Thanks to our awesome volunteers:  Donna H, Peggy H, Deah and Rose, Kent and Kim.  We so appreciated your help in promoting FOTAGL.