ABOUT THE FRIENDS
Our mission:  To preserve and enhance the library's place as a source of information by enriching its resources and making its services better known to the community.
FOTAGL is a 501(c)(3) non profit organization registered with the California Secretary of State. To see our By-laws, click here.
Our Tax ID is 77-0324053.  
We are an all-volunteer organization and always have volunteer opportunities for community members like you to lend a hand.
What do the Friends of the Library Do?
We shelve books
We mend books
We purchase books, DVD's and supplies
We provide computers and printers for public use
We fund adult and children's programs
We purchase furniture and fixtures
We process donated materials for sale and use the proceeds for the library
We sell appropriate books on the internet and use proceeds for the library
Notable contributions:
Teen Lounge
Leather furniture in lounge
Patron computers
Kids computers
Adult lounge furniture
The pandemic had a significant impact on all our sources of revenue.  During 2019, the Book Nook earned a total of $7,945; however with library closures and significantly fewer patrons, the Nook earned $1816 in 2020.   Internet Sales in 2019 totaled an amazing $17,174, but $7447 in 2020 (still not bad!)  And our bi-monthly book sales earned slightly over $16,000 in 2019, but with only one sale in 2020 are income was only $2506.  
Membership
We are thrilled that so many of you in the community show your support of the Library by becoming a member of the Friends.  We currently have 293 adult and 11 teen members including 142 life members and 26 complimentary members .  Due to the COVID-19 shutdown, the Board of Directors has extended all annual membership by one year.  For most members, this means December, 2021.  Remember, now that our lives are almost back to normal, we are reminding annual members to please renew their membership.
If your membership has lapsed or you wish to join, it is not too late!  You may print and fill out the membership application found here membership.   Include a check made out to Friends of the Arroyo Grande Library and:
Bring in to the Arroyo Grande library help desk
Or
Mail your application and check together to:
Friends of the Arroyo Grande Library
800 West Branch Street
Arroyo Grande, CA 93420
You can also cut the membership form out of the bi-monthly newsletter or pick up a membership form the next time you visit the Library.  Leave the completed form and your payment with staff at the HELP desk.  We would love to have you as a member!
Our History
The Friends of the South County Library was organized by then Branch Manager, Deborah Schlanser in September, 1992.  There were about 15 original members (compare with 490 current members).  Prior to the Friends group being formed the Women's Club of Arroyo Grande provided support and volunteers to the Library.
Dave Wilcox was elected the first President and Debbie Saurbrier, Vice President.  Other important members included Ian Pilling who took on the job of Newsletter editor and Happy and Leighton Pratt who accepted the positions of Book Sales chairpersons.  The very first book sale took place in November 1992 and raised a princely sum of $444.16.  The Pratts resigned in 1995 after garnering $7500 during 14 book sales.  Significant contributions were also made by Pat Conniver who became the first magazine/book chairperson and Anne Pilling one of the original founders and volunteers.
Initial fundraisers for the Friends included, of course, book sales, but also T-shirt sales.  Several decades later, the Friends still rely on Book Sale, as well as book/magazine sales as their primary income.  In 2016, in conjunction with the Historical Society, the Friends produced and sold an historic calendar as their annual fundraiser.
In February, 2007 the Friends sponsored their first Website (www.foscl.net)and soon after began their first involvement with Better World Books.  July 10, 2008, the organization became the Friends of the Arroyo Grande Library (prior to that the name was the Friends of the South County Library). There have been other changes in the Library and organization over the past 25 years, but the goal of FOTAGL is still to provide monetary and volunteer support to our wonderful library.  All the volunteers, then and now, are dedicated to making our library a place the public can come to gain knowledge, be entertained and enjoy the joy of books and now electronic information.
There are several current members that have personally experienced the "history" of the organization.  Former, but still current members of the Friends include:  Kim Elston (now Secretary, Past President), Donna Kimber (now Treasurer, former Membership), Kersti Lasiewski (now President), Kent Unsworth (long time Book Sale Chair), Mary Boyle (past newsletter editor), and Sandra Mason (now Volunteer Coordinator).
Because we now earn more money from our book/magazine rack, our book sales, special fundraisers (like our historic calendar sale) and internet book sales, we are able to donate much more money (@ $25,000 in 2018) to the AG Library.  We are now able, in addition to purchasing books, magazines, CDs and DVDs, to purchase computers, furniture and supplies as well as providing funds to support both adult and children's programming.
We always have volunteer opportunities so please think about giving your time and support to our group.  It is so meaningful and satisfying.
We are celebrating our 25th year of support for the AG Library!
The 2019 Board members are: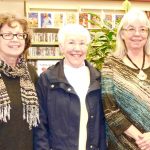 Kersti Lasiewski, President
I became active in the Friends of the Library soon after retirement, primarily sorting books and working at the book sales, primarily in the "special price" area. Eventually I became an officer and served as vice-president, and secretary. Now I find myself president and hope the future is as fulfilling as the past several years have been. I believe that the library is a very important hub in our community and want everybody to enjoy it as much as I have.
Kim Elston, Secretary:
I have been a member of the Friends board since 2004, when answering an appeal for new board members allowed me to fulfill a childhood dream to work in a library (or at least work for a library!). I thoroughly enjoy talking with folks about who the Friends are and how we provide funding to the library for the community's benefit.
Donna Kimber, Treasurer
When looking for volunteer opportunities I realized that the service I could not live without was the library. I'm working to insure that the library survives! Love my library!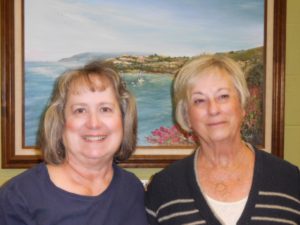 Sandra Mason, 1st Vice President
I have many years experience in Libraries. While in London I worked for a local library before leaving to join the National Book League to do book research.   After moving to Arroyo Grande, I worked at both Cuesta College Library and the old Arroyo Grande Library on Bridge Street before going to the County Clerk's Office.  With my love of books, upon retirement I joined the Friends of the Library and have been on the Board ever since.
Louise Clark, 2nd Vice President
I have been with Friends about 2 years now and enjoy my work with the library. It has been a good place to make friends and help the library. I have lived on the Central Coast since 2012. Before retiring, I did medical billing
2022 Friends of the Arroyo Grande Library Slate of Officers is listed below.  A ballot is included on page 1 of the Library Insider.  Completed ballots can be dropped off at the library by April 9th in the ballot box at the check out counter.  The results will be announced at our annual meeting on April 12th.  At this time, however, it is uncertain whether the meeting will be in person or via zoom.
President     Kersti Lasiewski
1st VP           Sandra Mason
2nd VP         Louise Clark
Secretary     Kim Elston
Treasurer    Donna Kimber