FOTAGL MEETINGS:
The FOTAGL Board of Directors meets on the second Tuesday of each month at 9AM in the library.  All FOTAGL members are invited to attend.
VETERAN'S CENTER:
Reminder that the library now offers services to Veterans on Mondays & Tuesdays.  Call Yvette Mason at 781-5766 for an appointment.  Come see the new "Veterans' Office" now open in the library.
SUMMER READING PROGRAM FRI JUNE 1-SAT JULY 28
There is still time to sign up for the Summer Reading program, Libraries Rock.  It is open to all ages, children & adults. Exciting and fun prizes involved for those who participate. Please sign up at the children's or reference desk.
CLARYCE KNUPPER ART SHOW
Local, contemporary artist, Claryce Knupper, will display her watercolor and silk painting works in the Internet Lounge area of the library during the month of August.
BANJER DAN FOLK MUSIC SAT, AUGUST 4, 2:00-3:00
Join us at this family friendly event where local musician Banjer Dan Mazer will perform his folksy style of music. 
NEXT BOOK SALE:   
The sale is co-sponsored by the AG Library and FOTAGL.  Join us on Saturday, August 11th from 10AM to 3PM  (members may enter starting at 9:30 am. Please bring a copy of your last newsletter).  As usual you can find many treasures at truly bargain prices. The $2 bag sale starts an hour earlier @ 1PM.  All proceeds benefit the AG Library.
ADULT READING PROGRAMS:
Arroyo Grande Bookends
Join the "Arroyo Grande Bookends," an adult book discussion group moderated by a library staff member and open to the public. The "Arroyo Grande Bookends" reading list for 2018 is located on the SLO Library Home Page at www.slolibrary.org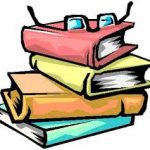 then click on Events then click on Book Groups or at the Reference Desk in the Library.  For information please email Michele at mholland@slolibrary.org or call 473-7164.
June Book Info:
This month the book, Handmaid's Tale by Margaret Atwood will be discussed on two repeated sessions: Friday, August 17 from 10:00-11:00 a.m. and Tuesday, August 21 from 5:30-6:30 p.m.   For information, please email Michele at mholland@slolibrary.org or call 473-7164.