Our 2018 Membership Drive is complete and the winners of our raffle drawing have been chosen.  
They are:
Life members:  Glenn & Joyce Bolivar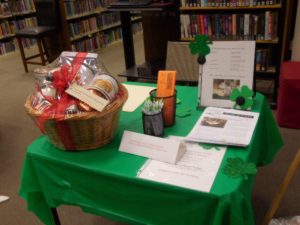 Teen:  unclaimed (basket will be raffled at upcoming teen class)
New Member:  Tina Baldwin
Renewing Members:
John & Gill Bouma
Mara Injejikian & Douglas Urschel
A very big thanks to all our generous sponsors:
Auto Club of Southern California
California Fresh Market, Pismo Beach
Central Coast Quilters
Trader Joe's Market, Arroyo Grande
FOTAGL honors donors:
Two FOTAGL members have consistently supported the Friends throughout the year with monetary donations.  To honor their exceptional help, Jean Whipple and Francesca Fairbrother (who humbly declined a photo), were given beautiful quilts crafted by members of the Central Coast Quilters.  Our very special thanks to both of you!
FOTAGL also wished to send a big thank you to member Maral Injejikian for helping us manage our excessive inventory of romance books.  So glad your sister enjoys them!